A1 basic course in Spanish
A1 basic course in Spanish
This course includes: 11 Months of LIVE sessions for each language (88 sessions of 45 mins each) Individual attention to each user - The class will be conducted online via Snap Works LMS What is this course about? The courses are to prepare students for A1 language CEFR exams in Spanish The course covers basic vocabulary and grammar for the A1 language exam. This is essential for students intending to study further in universities abroad.
Timings:
Starts on 17th Nov 2022
Every Mondays and Thursdays 7:00 PM-7:45 PM IST
Learning Outcome:
Language level A1 is the lowest level of proficiency according to the Common European Framework of Reference for Languages. The aim of this learning stage is the ability of a basic language use that is fundamental for further language learning. The participants will be able to learn and advance their basic language skills to communicate in the above languages. This is a highly sought skillset for students as they can apply to foreign universities after having the basic language skills which is the critical prerequisite for many academic courses which are absolutely free.
The students will be well guided till the end of the course which includes informing the students about the dates and timings of the online exams and walking them through process of going about it.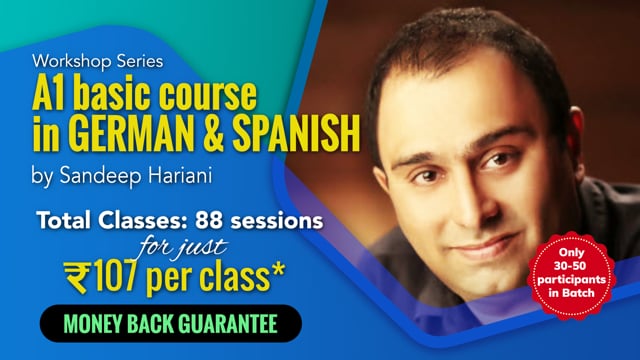 About the Teacher:
Sandeep Hariani, an engineer from VJTI, Mumbai, is a Linguist. He speaks and trains in 15 languages and has been teaching for the last 12 years as an edupreneur. He also carries 13 years of IT experience.
Age Group: 13-18 Years
How much does it costs?
Only ₹9600 10,000 for 11 months ( including GST )
Or you can pay in 2 easy installments.
1st Installment: ₹5400 - Pay Now due immediately
2nd Installment: ₹4600 - Pay Now due on 30th June 2023
(this will redirect you to payment gateway to complete payment).
*Money back Guarantee
Take the first class/session, and if you are not happy or satisfied and want a refund, we will do a full refund. No questions asked.
Session Details
| | | | | | |
| --- | --- | --- | --- | --- | --- |
| Day 1 | Basic | 17 Nov 2022 | 07:00 pm | 45 minutes | |
| Day 2 | Basic | 21 Nov 2022 | 07:00 pm | 45 minutes | |
| Day 3 | Basic | 24 Nov 2022 | 07:00 pm | 45 minutes | |
| Day 4 | Basic | 28 Nov 2022 | 07:00 pm | 45 minutes | |
| Day 5 | Basic | 01 Dec 2022 | 07:00 pm | 45 minutes | |
| Day 6 | Basic | 05 Dec 2022 | 07:00 pm | 45 minutes | |
| Day 7 | Basic | 08 Dec 2022 | 07:00 pm | 45 minutes | |
| Day 8 | Basic | 12 Dec 2022 | 07:00 pm | 45 minutes | |
| Day 9 | Basic | 15 Dec 2022 | 07:00 pm | 45 minutes | |
| Day 10 | Basic | 19 Dec 2022 | 07:00 pm | 45 minutes | |
| Day 11 | Basic | 09 Jan 2023 | 07:00 pm | 45 minutes | |
| Day 12 | Basic | 12 Jan 2023 | 07:00 pm | 45 minutes | |
| Day 13 | Basic | 16 Jan 2023 | 07:00 pm | 45 minutes | |
| Day 14 | Basic | 19 Jan 2023 | 07:00 pm | 45 minutes | |
| Day 15 | Basic | 23 Jan 2023 | 07:00 pm | 45 minutes | |